Disability History Month: how far have we come?
18th November 2020 by Amy Hutson
As tonight sees the start of the United Kingdom Disability History Month, this year's theme is Access. As we reflect on how far we have come, we've taken a look back at some of D&A's key achievements relating to access over the years.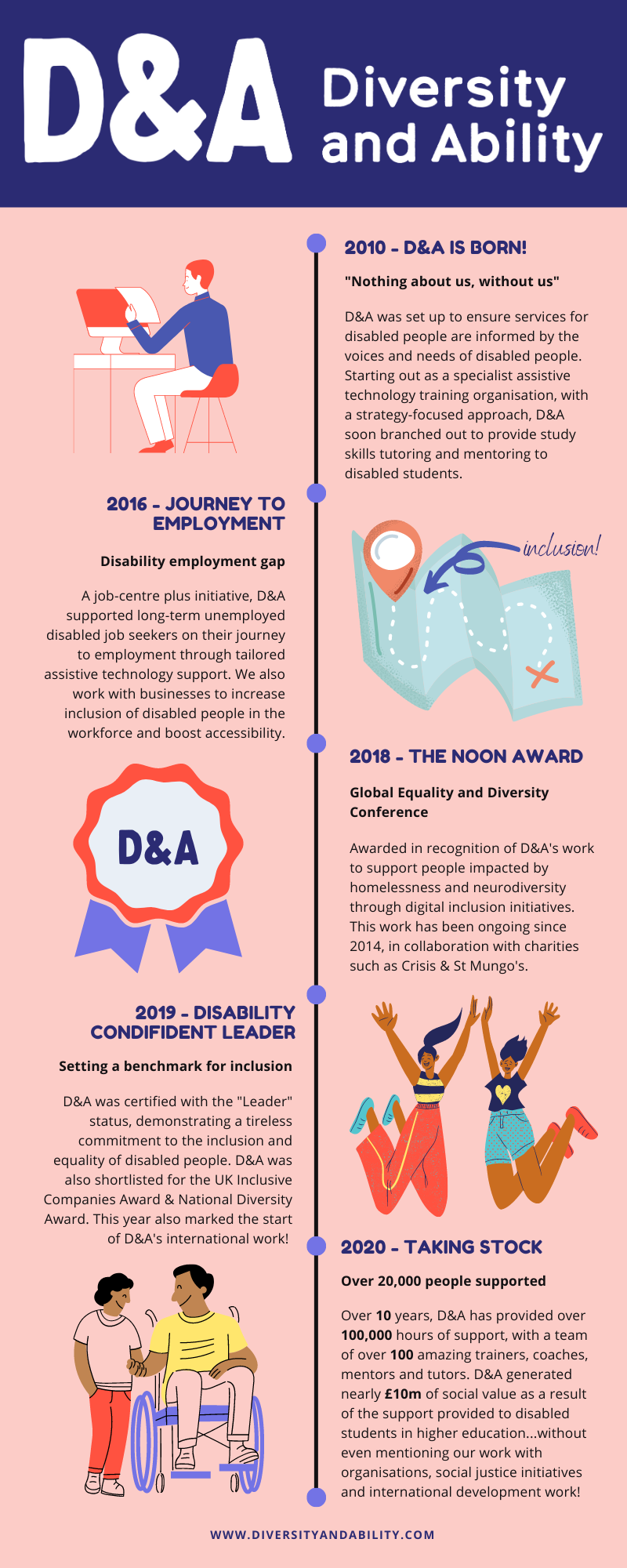 Image Description:
2010- D&A is born!
"Nothing about us without us"
D&A was set up to ensure services for disabled people are informed by the voices and needs of disabled people. Starting out as a specialist assistive technology training organisation, with a strategy-focused approach, D&A soon branched out to provide study skills and mentoring to disabled students.
2016 – Journey to Employment
Disability Employment Gap
A JobCentre Plus initiative, D&A supported long-term unemployed disabled job seekers on their journey to employment through tailored assistive technology support. We also work with businesses to increase the inclusion of disabled people in the workforce and boost accessibility.
2018 – The Noon Award
Global Equality and Diversity Conference
Awarded in recognition of D&A's work to support people impacted by homelessness and neurodiversity through digital inclusion initiatives. This work has been ongoing since 2014, in collaboration with charities such as Crisis and St Mungo's.
2019 – Disability Confident Leader
Setting a benchmark for inclusion
D&A was certified with the 'Leader' status, demonstrating a tireless commitment to the inclusion and equality of disabled people. D&A was also shortlisted for the UK Inclusive Companies Award and National Diversity Award. This year also marked the start of D&A's international work!
2020 – Taking Stock
Over 20,000 people supported
Over 10 years, D&A has provided over 100,000 hours of support, with a team of over 100 amazing trainers, coaches, mentors and tutors. D&A generated nearly £10m of social value as a result of the support provided to disabled students in higher education… without even mentioning our work with organisations, social justice initiatives and international development work!