Social Enterprise Support Fund: funding diverse social enterprises in their recovery from the COVID-19 pandemic
2nd December 2021 by Ellie Thompson
Focused on funding social enterprises supporting people facing increased social and economic challenges as a result of COVID-19, the Social Enterprise Support Fund is providing essential financial support to help social enterprises in England to rebuild and grow their income from trading, following the impact of COVID-19.
We're delighted to be one of six development partners for the fund, providing outreach and application support to organisations led by social entrepreneurs who are from Black, Asian and minority ethnic backgrounds, are disabled, and/or identify as LGBTQ+.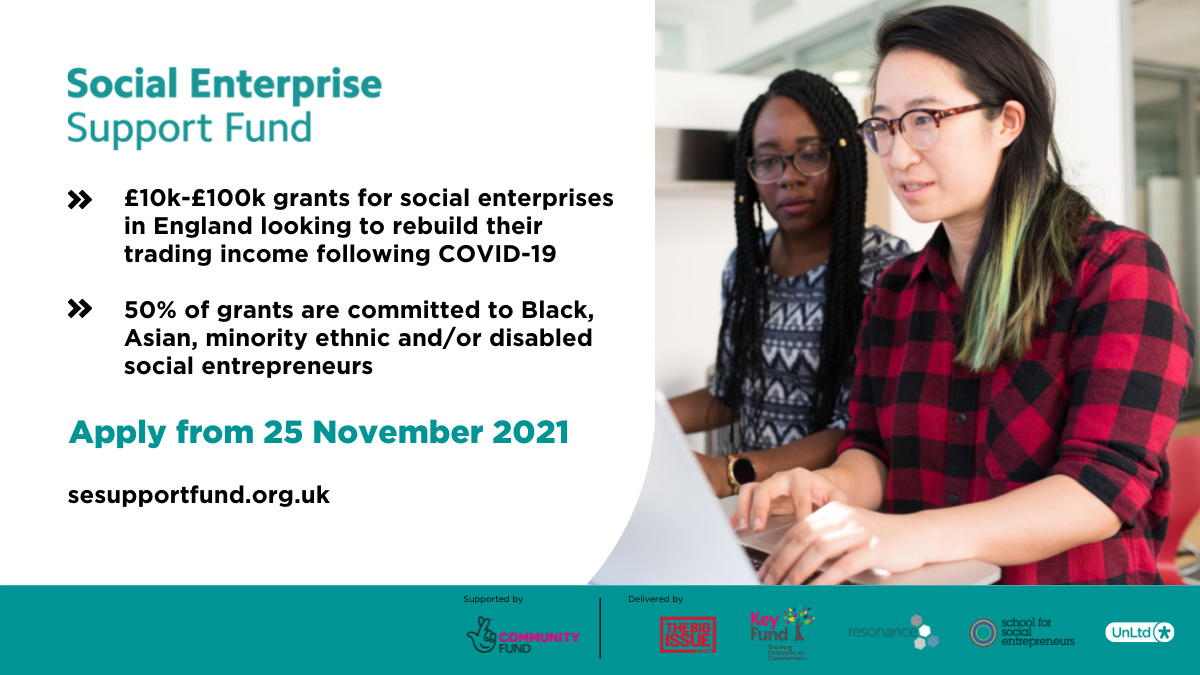 The Social Enterprise Support Fund is a two-year project, delivered by Big Issue Invest, Key Fund, Resonance, the School for Social Entrepreneurs (SSE) and UnLtd, in partnership with The National Lottery Community Fund. Thanks to National Lottery players, The National Lottery Community Fund has committed £18m to the partnership, which will offer vital and rapid financial support to more than 500 social enterprises focused on supporting their communities to recover from the pandemic. This funding will help these enterprises to provide and improve services to some of the most marginalised groups and ensure these are sustainable at a time of economic uncertainty.
Emma Turner, Partnerships and Outreach Lead at Diversity and Ability, shared her excitement about the fund:
"Social enterprises, led by those with lived experience, have the potential to dismantle the biases and barriers that limit so many of us from being able to participate fully in society. They're the key to unlocking an inclusive future where we can celebrate diversity in all its forms. Of course, so much damage has been done by the COVID-19 pandemic. This fund gives social enterprises the financial support to get back on track, and we're so pleased to be a part of that."
Applications are open now, and will be closing on 21st December, so make sure you take advantage of the information, guidance and support out there to submit your application as soon as you can!
Access support and guidance for completing your application
"How can D&A support me?"
We can use our lived experience, knowledge and expertise to support your application in diverse ways, including:
Ensuring you are able to access and understand the application material to a good standard
Enabling you with application-related skills including note-taking, planning, reading and writing, organisation, proof-reading and time management skills
Providing proof-reading support
Assistive technology training (for existing technology or open-source and free assistive technology software)
Identifying and creating effective working strategies that take into account your individual working style, application requirements and specific needs
Supporting you with motivation and morale, and enabling you to increase your self-motivation
Creating positive plans and objectives for upcoming applications
"How do I know if I'm eligible?"
You are eligible for the award if you meet the following criteria:
1. The majority of your beneficiaries must be in England.
2. Your organisation must be incorporated for at least one year at the date of application.
3. You must be a social purpose organisation with an asset lock, social objectives and restricted profit distribution where at least 51% of profits is reinvested.
4. Income in either your last financial year or the previous financial year (pre-COVID-19) must be between £20,000 to £1.8million.
5. Your organisation must be substantially reliant on trading income.
6. Your organisation must be financially resilient.
If you need help understanding if you're eligible, you can fill out our eligibility criteria form!