Inclusive Campus
We are working with universities around the UK to help create inclusive campuses. At D&A we believe that everyone learns differently, and institutions have the power to support all students no matter their learning style, background or status.
The Aim
To help universities improve student retention, attainment, and well-being by creating an anticipatory environment where all students have access to effective resources and support.
To enable support for students that are often overlooked:
International students
Foundation year students
BAME students
Students that don't formally disclose a disability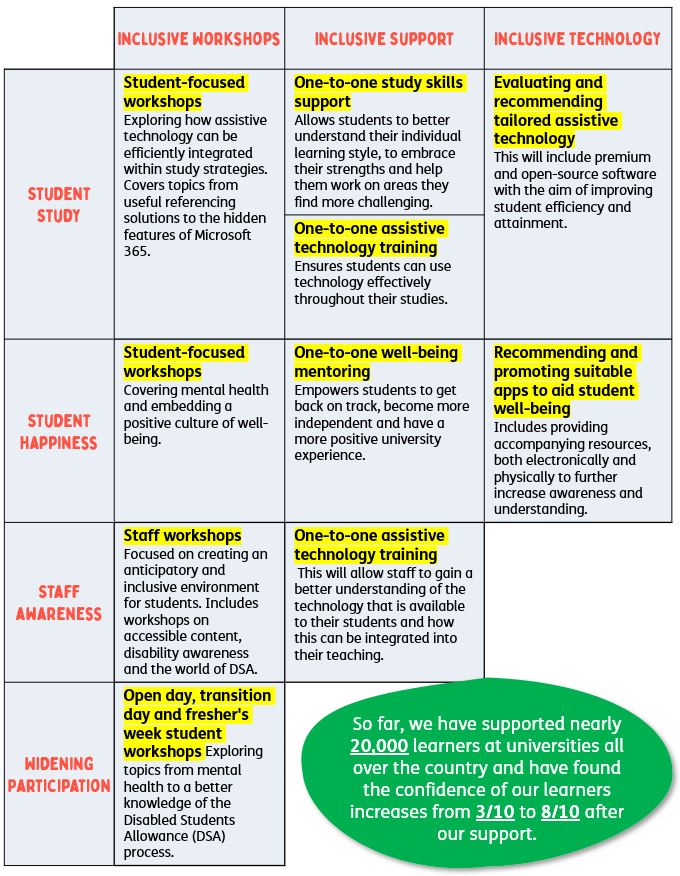 How we help create an inclusive campus
We use the adjacent grid to identify where there are gaps in a university's student support offering. We then work with the university to develop a customised package of support based on their current needs, resources and outlook.
We have first-hand experience using the tools and strategies we teach and really care about the learners we work with. We are convinced that peer-to-peer empathy, respect and support, delivered by those who share a lived experience with learners, will make life-changing differences for learners accessing higher education.
We provide a myriad of personalised services, all with the end goal of facilitating enablement and independence in Higher Education. We are passionate about providing bespoke support to universities and learners alike. All support is tailor-made, taking into account each individual's learning style, workload, and course requirements.
The benefits of an inclusive campus:
→ Reduces the need for individual reasonable adjustments to be made or requested
→ Increases to student success rates (with specific targets on closing attainment gaps for students with protected characteristics)
→ Increases in student satisfaction rates
→ Develops a genuinely inclusive environment that enables students to express their diversity and celebrate it
"[My tutor] has honestly been a godsend. She has helped me to feel like I can achieve so much." – Sam, Undergraduate, University of Birmingham 
"[My mentor] has been an absolute lifesaver and so far, has made the biggest impact on my education of all the interventions and provisions in my plan." – Leila, Undergraduate, Open University
"[My trainer] was very friendly, and I felt confident asking questions. I am glad she was able to give me examples of when to use the software and how it can be applied to aspects of my course and real life." – Matt, Postgraduate, University of Southampton
'[My trainer] was very friendly and I felt confident asking questions. I am glad she was able to give me examples of when to use the software and how it can be applied to aspects of my course and real life. She listened to my current struggles I faced without the technology I now have and has made me feel a lot happier knowing what things I can do now. – Jessica, Undergraduate, Goldsmiths University of London
Who else we have worked with