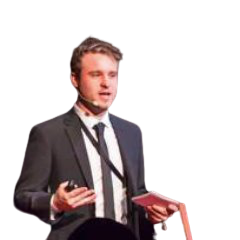 Jamie Brett
Inclusion Consultant
In 2020, Jamie founded Cerebration, a social enterprise to pursue the endeavour of designing, developing and delivering meaningful learning interventions that also have a social impact. His formative experience includes supporting the philanthropic ambitions of a Prince followed by a Billionaire, in a variety of roles that range from front-line youth worker to managing a global talent function covering from New York to Singapore.
Jamie is a people centred and result-oriented Workshop Facilitator, Training Manager, Talent Development Specialist and Change Manager, offering an eventful career within the areas of training and education, talent management, strategic change, STEM, poverty alleviation and personal social development.
Jamie a proven ability to conduct effective training programs that encompass a broad range of requirements and needs. These include the development and implementation of onboarding, technical, performance management, leadership and compliance training to a global audience. He has an established record of taking leadership roles on large scale change initiatives that include organisation wide digital transformation implementation and the relocation of 150 staff from Budapest to Berlin & Vienna. In 2015 he was a speaker at TEDx Wandsworth with his talk entitled 'How to prepare a generation, to take their place in digital revolution'.
Jamie's accreditations include, CIPD Accredited Trainer, Facilitator & Learning Designer (Level 7), Herrmann Accredited HBDI Practitioner, AMPG Accredited Change Manager, MHFA Mental Health First Aider, QCF Accredited Educator & Youth Worker and a Skilled E-Learning Designer
He has extensive experience in delivering training through managing personal social development, thematic, well-being and holistic support programs. Jamie possess an unwavering commitment to his client's growth while ensuring the highest levels of services through managerial skills, teamwork, communications and prompt response to issues.