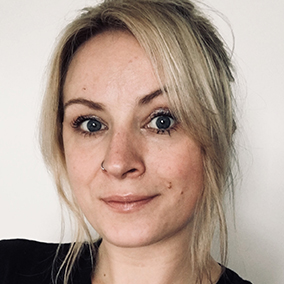 Trudy Houghton
Trainer
Trudy is an AT trainer, designer and former FE lecturer based in Plymouth, Devon. She studied a BA(hons) in Spatial Design at Plymouth College of Art, where she later went on to teach FE art and design while studying a PGCE in education and training at Plymouth University. She enjoys supporting others to achieve their potential and is passionate about creating, promoting and improving opportunities for wellbeing,inclusion and social mobility.
Trudy has a particular interest in ADHD, following her own formal diagnosis after finishing her PGCE. Unfortunately she missed the boat for support during her own education but she did develop a range of strategies to help her through HE that she is always happy to share. Trudy has supported learners with a range of needs and takes a holistic and personalised approach to help others find and develop strategies that will work for them.
When she isn't AT training, Trudy is busy developing her creative practice and exercising her enthusiasm for trying new things. She has worked as a designer on projects with social arts charity Effervescent including the 'I am not a Robot' foster care campaign where she assembled and wired electronics for 60 custom robots to perform as a choir! And most recently helped build the set for an alternative Christmas Grotto/ immersive theatre experience.
When she's not working or pursuing a new subject of interest, Trudy is most often exploring the wild landscapes of Dartmoor with her husband and children. She strongly believes there is no such thing as bad weather, only bad clothing (except if it's windy and wet at the same time).
Her vices are coffee..lots and lots and lots of coffee, and wasting an embarrassing amount of time on the internet… did we mention coffee?