The government's best-kept secret: Access to Work
8th February 2019 by Catia Neves
What is Access to Work?
Access to Work (AtW) is a UK government grant scheme that pays for practical support for people who have a disability, health or mental health condition to help them: at interview, start in a job, stay in work and/or move into self-employment or start a business.
Grants are made to help cover the costs of practical support or equipment in the workplace or getting to and from work.
The idea behind Access to Work is actually pretty great. Until businesses and society remove points of exclusion for disabled people, AtW fills the gap, enabling disabled people to participate in the job market. The intention behind AtW is pure: supporting and retaining more disabled adults in the workplace.
So what's the issue?
We've been doing a bit of digging to see if AtW is a widely used resource, and after doing the maths, the resounding answer is, NO.
There were an estimated 3.9 million people of working age (16–64) with disabilities in employment in July- September 2018 … HOWEVER, Access to Work provision was only approved for 27,730 people…
This equates to only 0.7% of disabled people in work drawing on AtW support.
This represents a huge drop-off in applications for support in comparison to disabled students in higher education, where 37% of those who had disclosed a disability were claiming support via the Disabled Students Allowance.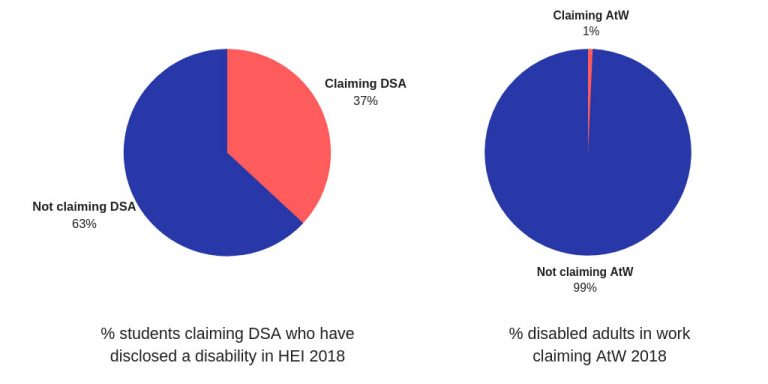 Why is this?
We think the low application rates for AtW support are down to a wide range of reasons, including:
People aren't aware of it- nor are their employers- it's not publicised enough!
Fear of disclosure & discrimination
Issues around confidence, embarrassment and stigmatisation
Misconceptions around who it is for — not for me, not "disabled enough".
Confusion over who it is aimed — unemployed people or people in work?
A sense that the organisation or manager won't be supportive
Not embedded as a visible option in the workplace
Too busy with work and stressed- no time to invest in support sessions
People reacting in a state of crisis or meltdown and not preemptively
On the flip side, we'd like to hope that some workplaces are so inclusive and supportive that employees don't feel the need to apply for AtW, as everything is provided by their place of work! Sadly we think this is unlikely to be the case…
Why is this problematic?
Low access to support results in a variety of knock-on effects for disabled employees, the employer and wider society.
For the individual
What does a lack of support mean for disabled employees? First and foremost, people are not getting the support they might want and need, which could negatively impact on their wellbeing and mental health. It might mean they are not able to do their work to the best of their ability and their potential is unfulfilled. It might mean that it's more difficult to find and stay in work.
For the employer
The employer is losing out on the assets of a diverse workforce, where employees are struggling instead of thriving and not contributing as much as they otherwise could. It's likely to have a cost, both in money terms — higher staff turnover, sick leave and absence, and also reduced diversity of thought and innovation.
For society
Widespread inequality. Disabled people are being locked out of the mainstream job market as organisations are not fully accommodating the diverse needs of our workforce. There's currently a 30.1% disability employment gap between disabled and non-disabled people.
What can we do about it?
Spread the word! Let's share information about AtW far and wide! We need to ensure people know about it- that job seekers know about it, that school leavers, apprentices and graduates know about it, that employees and management know about it! That way, everyone who needs it, knows about it.
We've put together a handy guide to applying to AtW here: https://diversityandability.com/resources/atw/intro/
We support employees to thrive and employers to be better, more inclusive employers. Find out more here: https://diversityandability.com/services/workplace/
Chat to us at hello@diversityandability.com