What can universities do to support their queer and disabled students? | Disabled in Higher Education
26th February 2021 by Cassidy Ferrari
Being disabled in higher education means facing a unique set of barriers that prevent you from having the same access as your non-disabled peers; from physical access barriers, to an inaccessible learning environment, to non-inclusive social and living spaces. At Diversity and Ability, we're all about recognising the power and the potential of lived experience. That's why our Higher Education team are spending this year hosting a new series of podcasts, where we'll discuss and break down the barriers faced by disabled students in higher education.
First up, we're marking LGBTQ+ History month by discussing what it means to be queer and disabled with our HE Policy and Partnerships Lead, Piers Wilkinson, alongside Cassidy Ferrari and Leo Adams, who is Disabled Students' Officer at National Union of Students. Cassidy breaks down the discussion here, and highlights what universities can do to make themselves more accessible to their queer and disabled students.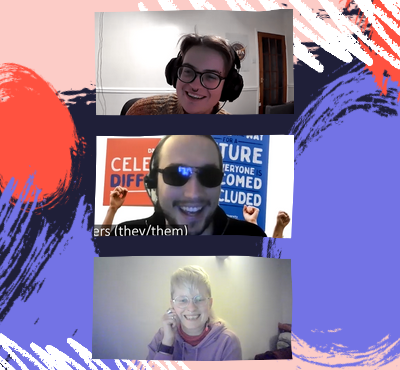 "
This conversation intended to address just some of the complex intersection of queerness and disability, as experienced by Higher Education students. By virtue of this intersection, students face institutional pressure to be quite literally visible and vocal in order to be taken into account. This leads to many students being forced into a role of campaigning for themselves and others to gain access to basic adjustments and support, when they would often rather be focussing on their studies and social lives like many other students are permitted to. They also face the double-bind of needing to be respectable and able to follow bureaucratic channels in order to make requests, while the view of 'respectability' remains incredibly narrow, and the channels inaccessible.
Societal attitudes towards queer people, particularly those with varying gender expressions, still lean towards a conservatism which sees queer people as deviant, dramatic, and even responsible for the issues they face. That's a narrative we see often as disabled people too, because insisting that there is a problem where an institution could not see one before always causes an unpleasant confrontation with the ideals they have claimed to be operating by. Universities are particularly guilty of dodging public scrutiny on these issues by funding large campaigns about these supposed ideals, and the diversity of their student body, but refusing to respond or even sanctioning students who challenge how accurate these depictions are.
These confrontations, and the inflexibility of universities to their students' needs, can always be traced in part back to the shift of the role of universities. As queer disabled people, it is no stretch at all to compare the way universities treat us with the way that other corporations do. Every bank, betting company and deportation airline that pays for a spot at Pride events contributes to the growing sanitisation of what it is to be queer. Disabled people rarely appear in these sterilised representations, and those who do often face the pressure of representing all disabled people in their role as token.
As evidenced in the video conversation, the complexity of queer disabled lives can fill many hours and many pages of discourse. Everyone who works with students should be engaging with the huge amount of material produced by students, academics, and those outside of the academy who do vital work in diagnosing the roots of oppression and the role of the university in its continuation. But it's also important to act, immediately, on the very attainable changes that queer disabled students have been asking for, often for a long time.
Some of the suggestions we discussed in the video are:
Informed, inclusive and integrated wellbeing support
University wellbeing services that are knowledgeable about queerness and disability, and are able to hold space for discussions that are inherently complex. This would require comprehensive training beyond one-size-fits-all mindfulness tips, training that is currently not adequately funded. Universities are not short on money for training, though wellbeing departments often advise that they are not allocated funding to appropriately support the volume of students with the huge variety of issues that they may be facing. When the issues are caused by the university itself, the opportunities for students to have meaningful discussion about how their department or union could be of better help are often foreclosed by the scope of what wellbeing officers are permitted to discuss and act upon.
Making spaces genuinely accessible
Providing physical space for students to come together on their own terms that is accessible beyond meeting the most basic legal requirements for 'accessibility'. This means consulting with, and paying, disabled professionals who can engage with the student body to create meaningful changes.
Supporting organic, dynamic student groups
Allowing dynamic access to spaces for groups of queer disabled students. We discussed how many of the nourishing and vibrant groups that we accessed as students were not official student societies, often because they would not meet the criteria for Student Union officiation. These groups often met up sporadically, for a variety of reasons including unpredictable needs, times when mutual care was needed due to political changes affecting its members, and the difficulties queer disabled students can face in finding like-minded people.
Breaking down bureaucratic barriers
Student Union membership often requires large volumes of inaccessible paperwork and requires certain standards to be met, while conferring advantages such as access to space, funding, and advertising through the Union that other groups cannot access. These benefits should either be extended to all groups formed by students, or the process of Student Union membership should be overhauled to be more accessible to the realities of queer disabled student groups.
"
So, what's next?
You'll need to watch Piers, Cassidy and Leo discuss queerness and disability to find out more about their intersectional experiences, and what can be done to make things better for the new generation of students entering higher education.
To mark the final day of LGBT History Month, our video will be premiering on YouTube, Sunday 28th February, 6pm. Make sure to subscribe to our YouTube channel and watch the premiere on Sunday!
You can also download the podcast as an audio file with transcript!