Workshops and training programmes
Our interactive training workshops increase awareness around a range of diversity issues and give participants the practical skills needed to embed an inclusive approach to neurodiversity and disability in your workplace.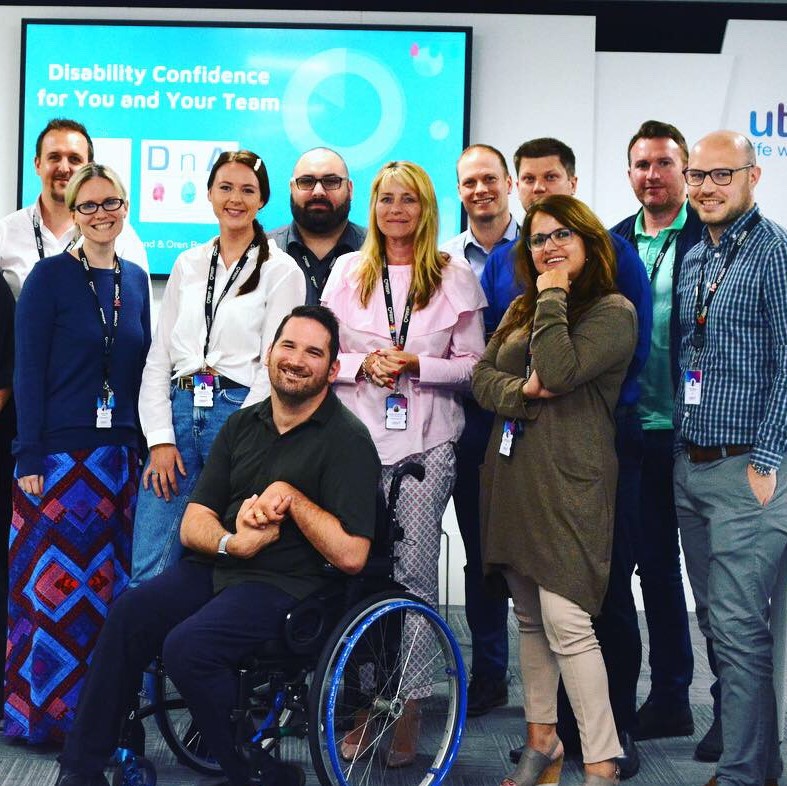 We believe in facilitating culture change across the wider workforce, where a programme of knowledge raising, training and support plays a major role in the embedding of inclusive culture within your organisation.
As a neurodiverse and disabled-led organisation, our engaging workshops are delivered by D&A trainers, who use, integrate and rely on the strategies they teach, trial and test. The tips are authentic and driven by our own lived experiences.
The approach is light-hearted and we always aim to create a safe space for people to explore ideas about (neuro)diversity, attitudes and how to create positive change. We look to build a fun dynamic, balanced with informative, experiential hands-on learning.
D&A see neurodiversity and disability as a balance of individual skills, abilities, strengths and learning differences. With individualised assistive tools and strategies in place, life-enhancing results are possible.
Collective knowledge, lived experience and expertise
All of our workshops are underpinned by the lived experience, passion and expertise we have in diversity and inclusion.
1. Equity, diversity and inclusive practice
Bespoke workshops focusing on understanding legislation, disability and neurodiversity, reasonable adjustments and inclusive practice.
Understanding how to harness the varied skills and strengths of a diverse workforce is key to creating a good working culture and success in the workplace. We explore what can be done to ensure inclusive practice, enhance wellbeing and boost productivity in the workplace.
2. Assistive and enabling tools and strategies
Workshops tailored to equip you with an understanding of how Assistive Technology (AT)- software and applications for computers, smartphones and tablets- support enabling strategies for inclusive practice.
With our integrated approach, we'll weave tailored strategies with assistive technologies to enable individuals to flourish in work, education, and everyday life, completing tasks and activites with confidence and independence.
3. Exploring diversity and dismantling bias
As a tick box exercise alone, unconscious bias training does nothing to alleviate the embedded inequalities that exist in the workplace, nor to change deep-rooted behaviours. We will explore how we can celebrate diversity and dismantle bias through raising awareness, understanding the benefits of diversity and setting a baseline by which real change can take place.
How we could benefit you
All of our training is specifically tailored to identify and meet your needs, so if you have something specific in mind, let us know! Here are some of our most popular workshops and training sessions:
Embedding inclusivity for all in the workplace
We'll show you and your team how adopting a celebratory model of diversity can increase productivity, discover new skill sets and realise potential.
We will outline the legal responsibilities as defined by the Equality Act 2010, and explore reasonable adjustments for disabled and neurodiverse workers.
Everyone has mental health; embedding a culture of wellbeing
We all have mental health, and we all have a social duty to understand it! By the end of this full-day workshop, you will have an understanding of the concepts of mental health and wellbeing, and know how you can foster a mentally health workplace.
Universal tools for improving accessibility: free assistive technology and strategies
There is a range of free, open-source and cloud-based software that's available for anyone to use at no cost. We believe that assistive technology should be accessible to all, and this workshop will give you the knowledge and tools to make that a reality!
Everyday mindfulness: managing stress and anxiety
Mindfulness has grown in popularity over the past few years, with academics and professionals now well aware of the every day benefits of embedding mindful strategies and increasing general wellbeing.
This full-day workshop focuses on the importance of taking a mindful approach to managing stress and anxiety, and gives you the tools you'll need to implement this in your workplace.
There are so many small changes that make a huge difference to the accessibility and success of your communications. In this session for communications, branding, marketing and customer experience teams we'll improve your understanding of disability and neurodiversity with the aim of enhancing communications and marketing collateral. We'll equip you with a comprehensive approach to creating content that enables access for all.
We know there's no physical health without mental health. Our accredited Mental Health First Aid course, delivered by our qualified MHFA instructors, will give you a framework to recognise mental health challenges and make recommendations, suggestions and signposts that will provide the support an individual needs, when they need it.
In MHFA training with Diversity and Ability, we bring our lived experience of disability, neurodiversity and mental health to the course. We bring an intersectional, integrative approach to your training, creating an open and supportive environment where everyone has space to share. You'll come away from the training not only with the nationally-recognised MHFA accreditation, but with a knowledge of the proactive steps you can take to support general wellbeing and reach out to people before they experience moments of crisis.
i-act training for positive mental health and wellbeing
i-act is the UK's leading evidence-based and accredited programme for understanding mental health and wellbeing in the workplace.
In your i-act training with D&A, we'll take a proactive approach to mental health to explore how you can change your workplace to one that fosters positive wellbeing. We'll explore your organisational processes and culture, discuss what you're already offering and support you to do more.
With our expertise in neurodiversity, reasonable adjustments and enabling technologies, you will leave the course with a clear idea of how you can implement strategies and encourage use of tools that will make your workplace a positive and mentally healthy environment.
When, where and who?
Most of our workshops are 3 hours long, with regular access breaks throughout. However, depending on what you want to cover and how in-depth you want to go, you can choose from the following:
half-day workshops (3 hours)
full-day workshops (5-6 hours)
personalised 1-to-1 sessions
two days, tailored workshops
Workshops can be delivered at your venue, remotely or we can organise an alternative location. Our team are located across the UK so wherever you are, we'll happily pay you a visit. We can cater to different-sized groups but do remember if you're choosing a hands-on technology workshop the ideal group size is a maximum of seven.
"Adam at D&A was an inspirational speaker who developed an immediate rapport with the audience. He was able to inclusively pitch the speech to react to and involve the wide background of the attendees."
Helen Bigham, Waltham Forest Dyslexia Association