Workshops and training programmes
Our interactive training workshops increase knowledge around a range of diversity issues and give participants the confidence and practical skills needed to embed an inclusive approach to neurodiversity and disability in your workplace.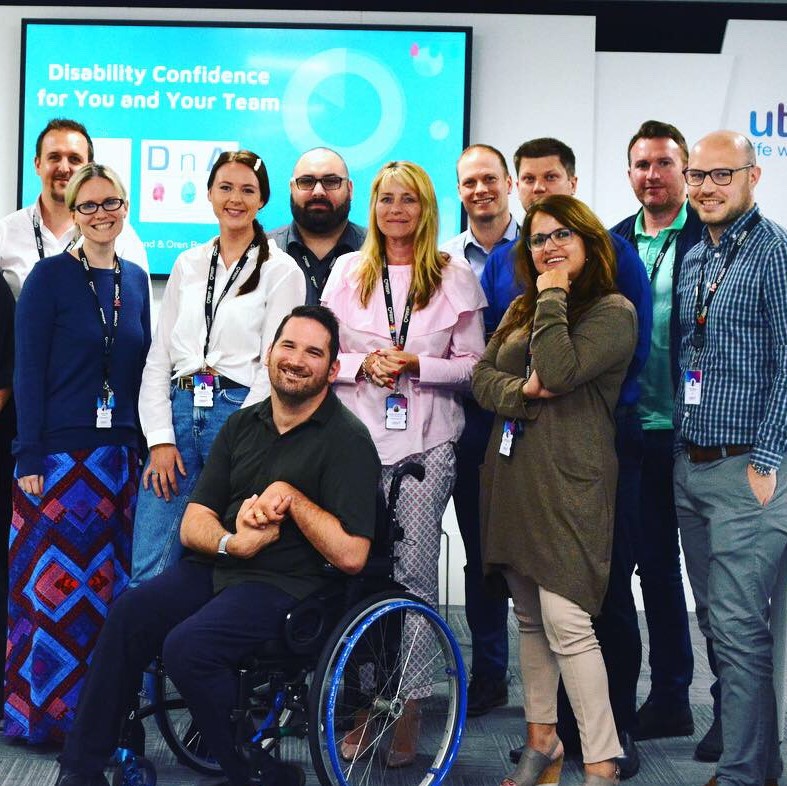 We believe in facilitating culture change across the wider workforce, where a programme of knowledge raising, training and support plays a major role in the embedding of inclusive culture within your organisation.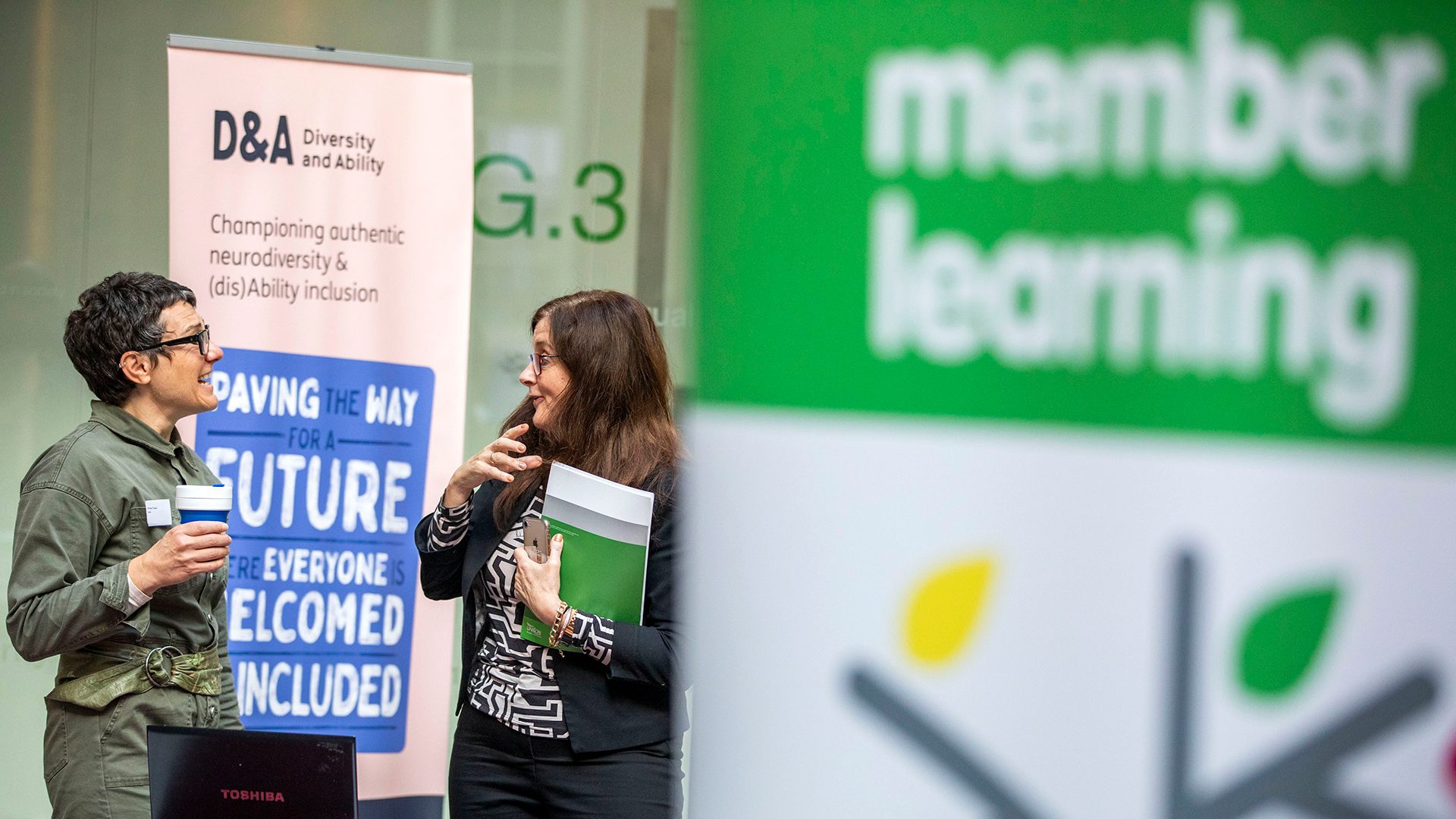 We are an organisation led by neurodiverse and disabled people. Our engaging workshops are delivered by our Inclusion Specialists, who share authentic expertise that is driven by our own lived experiences.
Our training instills a mindset where neurodiversity and disability are seen as a balance of individual skills, abilities, strengths and learning differences.
The positive impact of our training has been recognised through multiple award wins, most recently and notably the RIDI (Recruitment Industry Disability Initiatives) awards for Disability Specialist and Greatest Impact 2020.
Collective knowledge, lived experience and expertise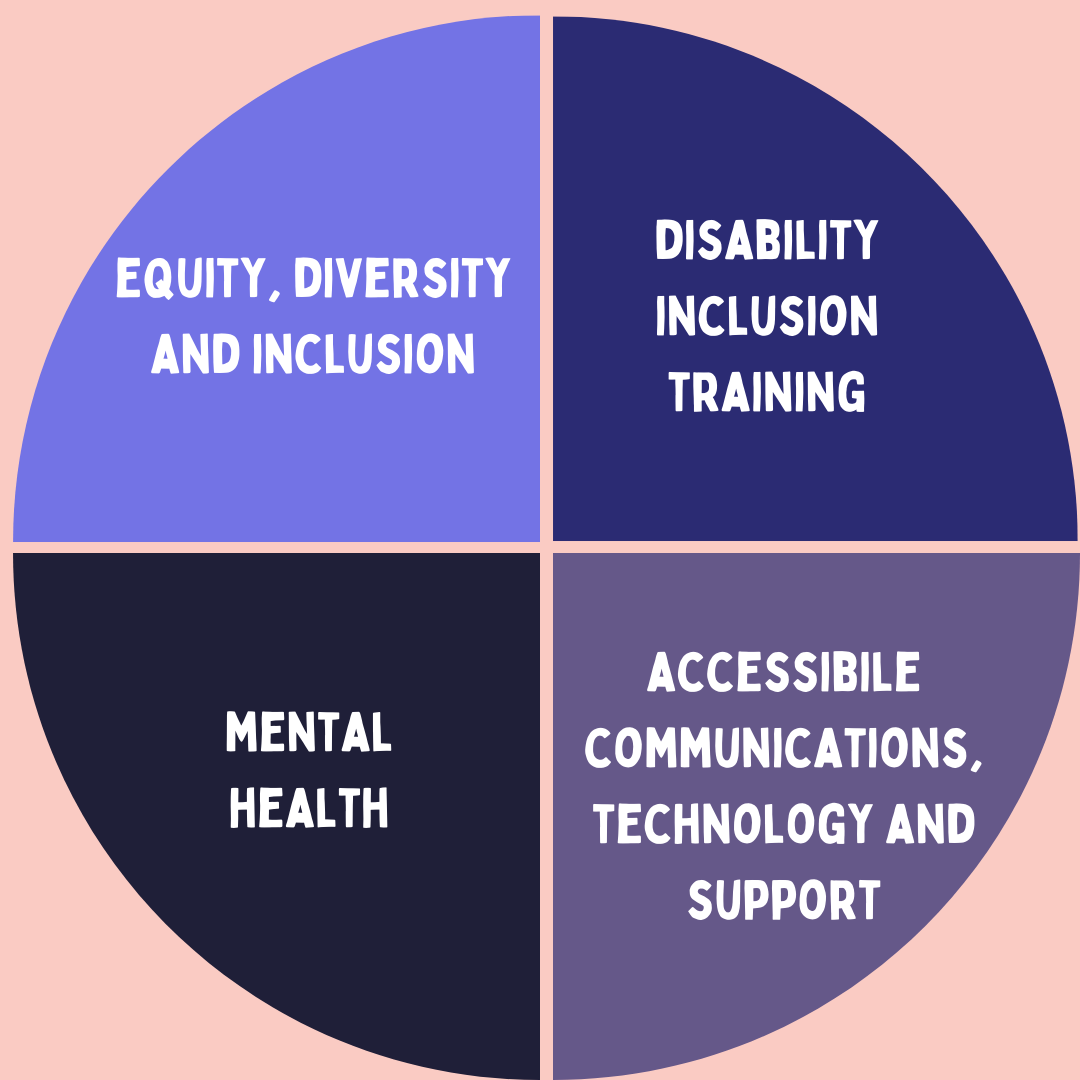 All of our workshops are underpinned by the lived experience, passion and expertise we have in diversity and inclusion.
Our core training programmes cover four main areas, all of which are completely tailored to meet your organisation's needs and take into account the sector or industry in which you work.
We deliver development programmes for specific audiences, such as senior leaders and line managers, or the wider workforce, and can be focused on specific areas of disability or lived experience.
D&A believes that many organisations get unconscious bias training wrong when rolling it out in the workplace. As a tick box exercise alone, it does nothing to alleviate embedded inequities that may exist in the workplace nor change deep-rooted behaviours to overcome the effects of implicit bias. Through celebrating diversity and embracing an approach of cultural humility workplaces can foster organisation-wide practice that supports intersectional diversity.
D&A bring lived experience of diversity, disability, neurodiversity and mental health to our training – an intersectional and integrative approach. We all have a duty to understand the concepts of mental health and wellbeing, and know how you can foster a mentally healthy workplace.
Our range of training can support your organisation to improve mental health and wellbeing in every area – through building confidence in line managers, increasing knowledge in the wider workforce, to reducing stress, creating mindful ways of working, to ensuring staff are aware of the myriad of assistive tech that exists to support good mental health.
Training that improves knowledge, confidence and understanding of disabilities and invisible differences in the workplace. With simple changes, barriers can be removed or reduced to allow each individual's strengths to shine through.
We adopt a fearless approach to ED&I, explore different models of disability and their impacts, and leverage emotional intelligence, anti-discrimination and allyship techniques to create inclusive cultures. As a result, teams will benefit from a myriad of benefits including improved sense of belonging, enhanced productivity, higher levels of retention and a sense of supported well-being in all staff.
Accessibility must go beyond compliance – the Equality Act 2010 states the need to anticipate different needs ahead of a request being made – your use of technology, your support and adjustments process and your website and communications can go a great way to building an anticipatory inclusive environment.
Our most popular workshops
All of our training is specifically tailored to identify and meet your needs, so if you have something specific in mind, let us know! Some of our most popular workshops and training programmes are:
Understanding disablement, celebrating differences, and including everyone.
Disability Inclusion Training
An engaging workshop to improve knowledge and understanding of disabilities and the prevalence of both visible and invisible differences in the workplace. This training will highlight small changes that help to create an inclusive culture where everyone can thrive.
This workshop will explore simple steps that can help teams embed a culture of inclusion, creating an anticipatory welcome for all.
The workshop aims to:
Increase awareness, understanding and confidence around disability
Explain the different models of disability
Highlight different types of learning differences, neurodiversity (ie. dyslexia) and disabilities and their various impacts
Share good disability etiquette
Explore the reasonable adjustments that can be made to accommodate different working styles and how to better support people with specific needs
Change mindsets
Disability can and most likely will affect us all at least temporarily, so understanding that this isn't a deficit and that strategies and support is available to help individuals is key to creating an inclusive space.
Supporting Neurodiversity in the Workplace
A workshop exploring neurodiversity, and what it means to be neurodiverse. We will talk about inclusive practice, and what can be done to enhance wellbeing and productivity in the workplace. Invisible disabilities can easily go unidentified and subsequently unsupported, so this workshop aims to raise awareness surrounding all types of disabilities, and what can be done to harness each individual's strengths and reduce their challenges.
Rethinking Disability in The Workplace: COVID and the case for anticipatory inclusion
Although this has been a trying time for us all, COVID has undoubtedly made us reconsider accessible tools such as remote working, flexible hours and diverse communication methods. In this session we will explore:
Changing perceptions of disability
Lessons learnt from COVID – a game changer for accessibility
Why we must not return to 'normal' after lockdown
The benefits of anticipatory inclusion
Through embedding anticipatory inclusive practice and placing value in a diversity workforce, we can experience the advantages of diversity of thought and enable teams to not only survive but thrive.
Understanding chronic pain in the workplace
Chronic pain is a widely experienced but not always widely discussed challenge and has many real impacts on individuals seeking or in employment. This session will introduce chronic pain and emphasise the value of creating an inclusive culture that values diversity. We will explore:
What is chronic pain
Impacts of chronic pain
Medical vs social model approach
The benefits of reasonable adjustments and open-dialogue
Through understanding all the facets of chronic pain, we can ensure our workplaces and teams are inclusive and truly accessible to all and in turn, ensure that we experience the advantages of diversity of thought and enabling individuals to not only survive but thrive.
Ensuring accessible communications, technologies and staff support.
Inclusive Communications Training
An engaging session for communications, marketing and customer experience teams to enhance communications and marketing material, and ensure content is accessible to all.
The training will work to improve understanding of disability, neurodiversity and assistive technology and highlight the small changes that can have a huge difference in accessibility and engagement.
From marketing materials to report writing, this workshop provides an overview of creating inclusive materials.
Assistive Technology - Uncovering Global Tools for Inclusion
Assistive Technology (AT) is all around us – from spellcheckers to screen readers and much more. But many people are unaware of the features available at our fingertips or how best to use them to accomplish your goals.
This session will introduce your teams  to tools that will make life easier. This can include getting to grips with the plethora of helpful features built into your office suites (Microsoft Office or Google Suite, for example). We can focus on specific challenge areas, exploring the most helpful apps and strategies for organisation and time management, writing and communication, and so on.
Equity, Diversity & Inclusion
Going beyond smallprint inclusion and fostering real culture shifts.
Fostering culture and behaviour to create an anticipatory welcome to diversity
This workshop explores the benefits of celebrating diversity and promoting inclusive practice in your workplace. Understanding how to harness and embrace the varied skills and strengths of a diverse workforce is key to creating a supportive working culture, promoting positive well-being and enabling success in the workplace. Embracing an approach of cultural humility is essential to ensuring that workplaces can foster organisation-wide practice that supports intersectional diversity. The workshop will explore:
Celebrating diversity
Intersectional difference, person-centred approach to individualised support
Identifying bias, non-inclusive and discriminatory practices
Workplace bullying and harassment
Facilitating a space that encourages conversation through creating an anticipatory welcome
Building a Fearless Approach to Inclusion
Emotional intelligence is a key skill that enables teams to better understand themselves and their colleagues and obtain optimal outcomes. Through exploring self-awareness and regulation we will look at the skills needed to level-up decision making and support. The workshop will also encourage participants to foster a sense of allyship through the lens of empathy and social justice.
Training outcomes include:
Using emotional cues to guide thought-processes and decision making
Managing with excellence through continued self-awareness and emotional intelligence practices
Allyship and ally-actions
Fostering a desire to continue learning through highlighting the benefits embracing diversity
By leveraging emotional intelligence, anti-discrimination and allyship techniques, D&A believe that teams will benefit from a myriad of benefits including improved sense of belonging, enhanced productivity, higher levels of retention and a sense of supported well-being in all staff.
Exploring Diversity and Dismantling Bias
D&A believes that organisations can miss the mark when rolling out unconscious bias training in the workplace. As a tick box exercise alone, it does nothing to alleviate embedded inequities that may exist in the workplace nor change deep-rooted behaviours to overcome the effects of implicit bias.
This session will explore diversity and how we can dismantle bias through raising awareness, unlearning and relearning!
By increasing our awareness of our privileges and biases, we can ensure that the workplace becomes an inclusive, safe space where all feel welcomed.
Mental Health and Wellbeing
Supporting you to look after everyone's mental health.
Mental Health Training (i-act) Promoting Wellbeing in the Workplace
Accredited by the Royal College of Psychiatrists
This training is available either as a course tailored for managers or for the wider workforce. Participants will be equipped with the tools to promote workplace wellbeing and to support employees who may experience a mental health or wellbeing issue.
The course comes with an evidence-based course manual, toolkit and resource pack for each participant, as well as online access to i-act resources. Participants will develop a greater understanding of mental health and wellbeing issues and will be equipped with practical tools and resources for promoting positive wellbeing in the workplace for themselves and for colleagues.
Mental Health First Aid (England) 2-day Course
D&A are certified Mental Health First Aid England instructors.
This two day course qualifies you as a Mental Health First Aider, giving you:
An in-depth understanding of mental health and the factors that can affect wellbeing
Practical skills to spot the triggers and signs of mental health issues
Confidence to step in, reassure and support a person in distress
Enhanced interpersonal skills such as non-judgemental listening
Knowledge to help someone recover their health by guiding them to further support – whether that's self-help resources, through their employer, the NHS, or a mix
A resource pack for future reference
Mental Health in the workplace: Tools and strategies
The training will build your knowledge, awareness and confidence around the myriad of assistive technology (AT) that is available to support you and your teams with your mental health and wellbeing. We believe that assistive technology should be accessible to all, and this workshop will give you the knowledge and tools to make that a reality.
We can look at a selection of both free and paid-for apps to support individuals in multiple scenarios to overcome a variety of barriers. Many of the apps are recommended by or are being trialled with the NHS.
When, where and who?
Most of our workshops are 3 hours long, with regular access breaks throughout. However, depending on what you want to cover and how in-depth you want to go, you can choose from the following:
half-day workshops (3 hours)
full-day workshops (5-6 hours)
personalised 1-to-1 sessions
two days, tailored workshops
bitesize introductory webinars (1- 1.5 hours)
To ensure equity in our sessions, we uphold high standards of accessibility, allowing everyone to fully experience every session. We provide live transcription for all of our training sessions, accessible slides and other follow-up resources. We utilise interactive tools and promote discussion. We schedule in regular breaks and are happy to accommodate any other access requests.
Workshops can be delivered at your venue, remotely or we can organise an alternative location. Our team are located across the UK so wherever you are, we'll happily pay you a visit.
"D&A provided an amazing session. It was informative and such a great way to learn about accessibility and inclusion in really practical and real life ways."
Staff training, Manchester International Festival